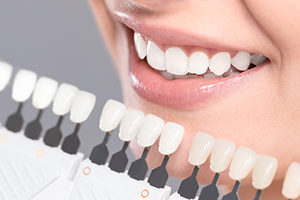 Who among us hasn't dreamed about having those pearly white teeth that all movie stars and models seem to rock these days? Even if you don't want to stand out from the crowd, white teeth are widely seen as a symbol of good oral hygiene, a sign that someone truly cares about their own appearance and health. For this reason, we here at Westgate Dental Care have decided to make it easier for everyone to get the smile they desire without breaking the bank in the process.
Our Offer
That's why we've lowered the price of our single-session whitening treatment from $399 all the way down to $299. That's a full one hundred dollars taken off one of our most popular procedures, all for the purpose of giving you that perfect summer smile right on time. What's more, due to our high-performance materials, the entire whitening procedure can be done in one go, saving you time and money in the process.
This special offer lasts through June 30th and is open to both existing Westgate customers and new ones as well. New customers, however, will need to pass an oral exam first to identify any potential periodontal diseases that might negatively impact the treatment. This exam comes free of charge when bundled with our New Patient Special Offers program.
Alternative Methods
Of course, if you'd prefer to take matters into your own hands, we also offer at-home whitening through the patented Opalescence system. This method involves creating customized trays and doses of professional whitening gel tailored for each individual user, thereby ensuring an optimized whitening process for all. Using Opalescence takes longer than in-office whitening, but you'll still experience teeth that are up to ten shades lighter after approximately two weeks of treatment.
Whichever method you choose, it is important that we address some of the most common myths and misconceptions associated with teeth whitening first:
At-home remedies work just as well – Typical alternative whitening recipes range from the relatively benign (baking soda) to the potentially dangerous (hydrogen peroxide). Not only that, but they fail to compete with medical-grade teeth whiteners that are repeatedly tested for both efficiency and safety in a lab setting.
Whitening lasts forever – While any color changes made to your teeth are permanent in nature, they still don't account for the natural aging process, which generally leads to yellower teeth over time. However, when properly applied, teeth whitening procedures can last for years on end before they need to be repeated.
Crowns and veneers can also be whitened – Because of their non-porous nature, crowns and veneers are not affected by any whitening gel. If you have had such interventions done in the past, you'll need to replace them so they'll match your new teeth color.
All things considered, undergoing a whitening procedure is one of the best things you can do to improve the visual appeal of your teeth. Buoyed by stellar satisfaction rates and eager to help out as many patients as we can, we invite all eligible people to come and take advantage of our special $299 offer until the end of June. To book an appointment or request further information, please visit our website or call (847) 754-4480 today.