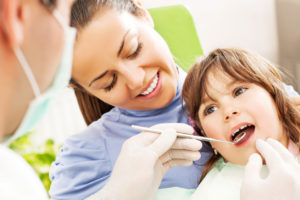 Being a first-time parent can leave you with many questions. How does this potty training thing work? What foods are okay to eat and at what age should they start eating new things? And of course, you probably have many questions about their dental health.
If you're unsure about how to care for your little one's teeth properly or even if you have questions about how their first dental visit will be, your children's dentist in Arlington Heights is here to help you get the clarity you need.
Children's Dental Health FAQ's
How should I care for my child's teeth at home?
It's extremely important to care for your little one's teeth while they're young. Baby teeth set the foundation for their adult teeth to come in properly. Here are some ways to make sure your child's baby teeth stay strong.
Your child needs to brush his teeth twice a day, in the morning and before they go to sleep.
Squirt a small amount of toothpaste onto a soft, children's toothbrush and begin brushing their small teeth in a small circular pattern.
Ensure that you're brushing the inside and outside surfaces thoroughly to effectively remove bacteria and food particles from their mouth.
Get them familiar with flossing and practice with them regularly so that the habit isn't foreign to them when they start taking care of their own teeth.
When is it okay to let my child start taking care of their own teeth?
It can be a proud moment in parenthood when your child wants to start brushing their own teeth. There is no set age for when your little should begin brushing their teeth—you have to be the judge of that. After all, the point of brushing their teeth is to remove plaque and built up bacteria. If you can tell that they aren't brushing their teeth effectively, you should still help them so that their dental health doesn't suffer.
What should I do if my child doesn't like taking care of their teeth?
Sometimes as a parent, you'll be the "bad guy." No matter how much your child doesn't like brushing their teeth, they have to. It's for the best!
There are ways for you to make brushing and flossing fun but you have to get creative. Develop a reward system for when your child consecutively completes their dental routine. Or, try making it a game so that your child looks forward to that time of the day.
What will my child's first dental appointment look like?
Your little one should visit the dentist by the time they turn one year old or by the time they have their first teeth erupt through their gums. Their first visit will encourage a friendly relationship between them and their dentist as well as ensure that your child's mouth is developing correctly.
To find more out about what pediatric services your dentist offers, feel free to contact your local practice!
About Our Office
Here at Westgate Dental Care, we love working with young patients! Our practice understands the importance of making each dental experience positive. If you want your child to love visiting their dentist, consider bringing them by our office first!