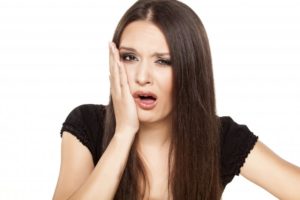 Did you know that tooth sensitivity is one of the most common complaints among dental patients? Tooth sensitivity can cause sharp pains and discomfort, eventually leading to more pressing dental problems. Most patients will experience it when exposed to hot or cold substances, like in the summer when a patient tries to enjoy a cold ice cream cone, they may not even be able to withstand the shooting pains their teeth experience. But, what causes tooth sensitivity? More importantly, how can Westgate Dental Care help you before you're frantically searching online for a "dentist near me" in pain?
All About Tooth Sensitivity
Tooth sensitivity occurs when the protective layer of your teeth—tooth enamel—thins overtime. Sensitivity can also be caused by gum recession, exposing vulnerable roots of your teeth. The insides of your teeth including the tooth root and nerves should be protected by a thick layer of enamel and healthy gums—that's how your mouth is supposed to work. But, there are many causes to worn enamel and even gum recessions that may make our teeth extra sensitive.
How can I preserve tooth enamel at home?
The best way to protect the enamel of your teeth is to monitor the substances you put in your mouth. Avoiding acidic foods and drinks like sodas, high-sugar carbs, and sticky candy can help save your enamel. Also, brushing your teeth softly rather than invasively will help preserve your healthy teeth. One more way to preserve the strength of your teeth is only bleach them periodically. Speak you're your dentist in Arlington Heights about how treatments may affect you before trying it.
How can Westgate Dental Care help my sensitive teeth?
Good dental care is critical for strong teeth is important! You can expect your dentist to help you in these ways and receive this same advice:
If your teeth are sensitive from minor tooth decay, our dentists will probably offer to clean and fill the affected area with a tooth colored filling.
If your prior filling was lost or came loose, our dentists can replace it.
Use toothpaste that's created for sensitive teeth (like Sensodyne) and enriched with fluoride.
Don't chew tobacco because it will quickly destroy enamel while at the same time cause your gums to recede.
Wear a custom mouthguard when you sleep to avoid unnecessary wear on your teeth while you sleep.
Are preventative appointments good for sensitive teeth?
A great way to stay on top of your dental health is to visit your dentist semiannually. Our professionals will have the opportunity to check on your oral health while removing harmful dental bacteria and debris. Our office provides great preventive services that can keep the layers of your teeth and gums strong for years to come! You can expect these services when you visit our Westgate Dental Care:
An in-depth evaluation of your oral health.
An assessment of your current risk of tooth decay/gum disease.
An inspection of your bite.
A comprehensive look internally and externally with digital x-rays.
A thorough discussion of the appointment and any recommendations for restorative treatments.
Are you ready to get your oral health back on track?
When you visit our office, we happily provide plenty of education on proper home care, the appropriate things you should be eating, and any habits to avoid. If you already have sensitive teeth, we will create the ideal treatment plan that addresses your needs and relieve your dental pain. Contact our friendly team to schedule the next available appointment.