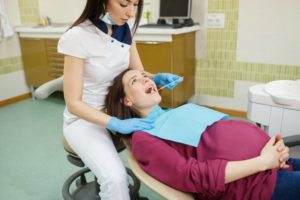 You're about to become a new parent, and the most important thing is looking after your health. Changes in your hormones can affect your oral microbiome, so it's especially important to keep up with your semi-annual checkups and cleanings with your dentist in Arlington Heights. If you slack on your hygiene routine, it leaves you susceptible to developing oral health problems. This Women's Health Month, know what issues to watch out for during your pregnancy and how you can prevent them from developing.
What Should You Know About Visiting the Dentist While Pregnant?
If you're not sure whether you're pregnant, but you're seeing your dental professional, it's a good idea to let them know you may be. It's important to do this so your dentist can postpone any treatments that may put you at risk.
It's safe to get a dental X-ray while you're pregnant. While radiation from these X-rays is incredibly low, your hygienist will still cover you with a lead apron to minimize exposure. Additionally, if you need to have a treatment done involving an anesthetic such as a root canal or tooth extraction, it's safe for you and your baby, so there's no need to worry.
How Does Pregnancy Affect Oral Health?
Pregnancy may cause certain dental issues to develop or become worse due to a change in hormone levels. Knowing how your oral health is changing and what signs and symptoms to look out for can be the best way to prevent small problems from turning into big ones:
Pregnancy Gingivitis: This can be a result of hormonal changes you'll experience during pregnancy. During this, you may experience inflamed, swollen, or tender gums. You may also notice that your gums bleed when you're brushing or flossing. When this issue is left untreated, it can progress into advanced stages of gum disease that are more difficult to treat.
Tooth Decay: You may notice that you begin to crave foods that are more carb-heavy or sugary during your pregnancy. This can increase the number of harmful bacteria in your mouth and leave you susceptible to cavities and infections. Additionally, morning sickness can cause your mouth to be exposed to excessive amounts of acid, which can erode your enamel and result in tooth decay.
Pregnancy Tumors: You may notice overgrowths of oral tissues on your gum during the second trimester of your pregnancy. These are called "pregnancy tumors" that are a result of swelling that happens between your teeth. These are not cancerous and are most likely related to plaque buildup. These growths look raw, red, and bleed easily. They'll typically disappear once your baby has been born, but your dentist can remove them if you're worried.
Reducing your risk of developing these oral problems can put your mind at rest and make the remainder of your pregnancy more comfortable.
How to Reduce Your Risk of Developing Oral Problems?
The best way to reduce your risk of pregnancy-related oral issues is to keep up with brushing and flossing at home. Although it can be overwhelming preparing for your baby's arrival, don't forget to schedule your semi-annual checkup and cleaning with your dentist. This can prevent any harmful bacteria and plaque buildup that you're not able to get with regular brushing and flossing at home.
Getting on top of your oral health can help can not only reduce your risk of developing a handful of oral health problems, but it can also save you time and money. Make your pregnancy a little easier and worry-free by remembering to visit your dentist!
About the Practice
At Westgate Dental Care, we offer the services of 5 highly trained dental professionals so you can get the best possible treatment. They each boast advanced training and experience that allows you to enjoy truly comprehensive care in the convenience of one place. Whether you're looking to schedule a semi-annual checkup and cleaning or looking into improving your quality of life with dental implants, we've got you covered. For any questions or to schedule an appointment, visit Westgate Dental Care's website or contact 847-577-7171.