Smile Perfecting Cosmetic Dentistry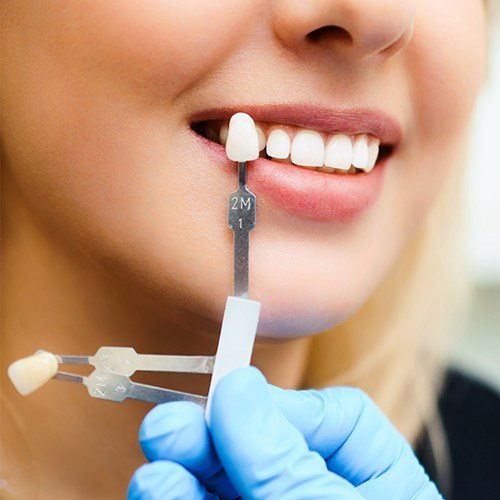 "The Academy of General Dentistry reports that 40 percent of survey respondents notice a smile first in people they work with, and 96 percent believe that a smile is important to a person's appearance."

Have you always dreamed of having a movie star smile? Want brighter, straighter teeth? We can help. At Westgate Dental Care, we offer a wide variety of cosmetic dentistry solutions to deliver the picture-perfect smiles of our patients' dreams. If you'd like to find out more about cosmetic dentistry options, we encourage you to contact our team to schedule a cosmetic consultation with Dr. Kics, Dr. Rosenblatt, Dr. Hart, Dr. Kluz or Dr. Christian in our state-of-the-art Arlington Heights, IL dental office.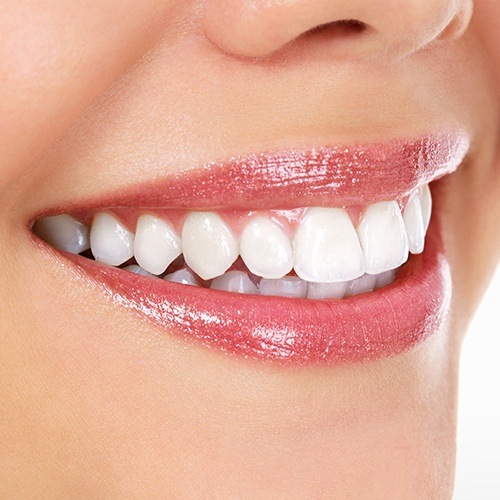 Porcelain Veneers
Veneers, thin sheaths of porcelain, are often recommend for those patients who want to conceal a wide variety of cosmetic flaws without undergoing numerous or complex cosmetic, restorative, or orthodontic procedures. Porcelain veneers are customized to fit onto the front facing surfaces of teeth, and they are designed, crafted, and placed in one appointment. During the initial visit, we may have to remove a small amount of tooth enamel in order to allow the veneer to lay flat within the smile line. Then, we'll capture bite impressions that will be used by our lab to create the custom veneers. If we needed to remove surface enamel to prepare the smile for veneers, we'll place a temporary to protect the prepared teeth. Once we receive the final veneers, you'll return to our office to exchange the temporary for a custom porcelain veneer perfecting your smile.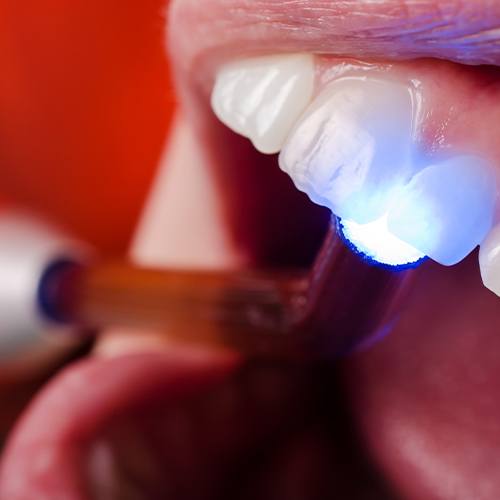 Dental Bonding
While not possible in every situation, direct bonding may allow us to provide many patients with a more conservative and affordable cosmetic treatment alternative to porcelain veneers. Bonding uses the same tooth-colored composite resin utilized for fillings. We apply the composite to the surfaces of teeth. Then, we shape the putty-like material into position correcting and concealing dental damage and decay. Once in place, we use a curing light to harden the composite into position.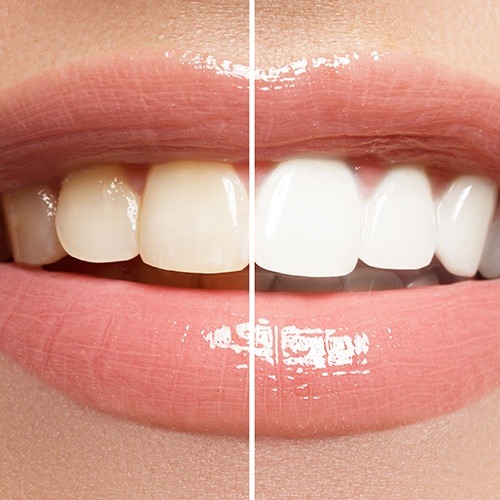 Invisalign
Many patients each year visit our team who want to straighten their smiles, but they tell us they've avoided orthodontic care because they don't want to deal with the hassle of metal brackets and wires. In addition to their noticeable appearance, traditional bracket and wire braces treatment can take several years to complete, require numerous orthodontist visits, and impact daily diet and oral hygiene routines. Adults, teens with busy schedules, patients with metal allergies, and those who have sensitive teeth, gums, or gag reflexes, may prefer orthodontic treatment using the Invisalign system. Rather than using brackets and wires, Invisalign uses a series of clear plastic alignment trays. Each set of aligners represents a step closer to the desired result. Worn for about two weeks, patients' teeth shift into this new position, and patients exchange the current set of alignment trays for the next set in the series. In about twelve months, patients will achieve their desired positioning, and throughout the course of treatment, there is no change to the diet or hygiene routine.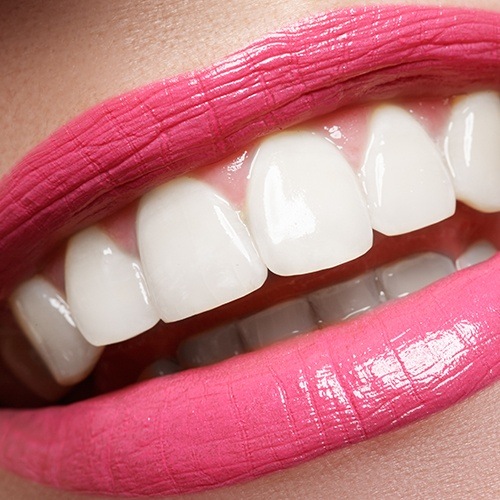 KöR Teeth Whitening
Many of the patients who choose to visit our office for teeth whitening have already tried over-the-counter whitening solutions. While these toothpastes, mouthwashes, strips, and gels promise dramatically brighter results, they cannot typically deliver the kind of teeth whitening results patients are hoping for. Our team offers safe and effective in-office teeth whitening. We use the KöR teeth whitening system that brightens smiles up to ten shades in just one short visit to our Arlington Heights dental office and send you home with treatments that you can do from home to maintain your radiant results.
Smile Makeovers
Do the flaws and imperfections in your smile seem overwhelming? If you have a variety of problems like discoloration, chipped teeth, misshapen teeth, missing teeth, and more, it may seem like no dental service can help. Thankfully, we offer smile makeovers, combining 2 or more cosmetic and restorative services to deliver amazing results. Read on to see how we can give your smile a complete transformation.
Gum Reshaping
When you look at your smile in the mirror, do you see too much gum? Do your teeth appear too short? If you would describe your smile as, "too gummy," we have a solution! With gum reshaping, we can contour your gums to give you the smile of your dreams. Our experienced team uses the latest technology to help you feel confident in your grin. Read on to learn more about this amazing treatment!